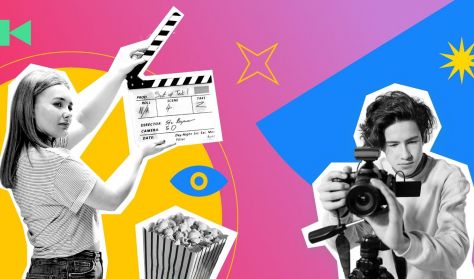 Cinemira TEEN / NAPIJEGY / LISZT ÜNNEP 2021
Cinemira International Children and Youth Film Festival
Nincs aktuális előadás
Ön egy múltbeli eseményre keresett rá. Kérjük, válogasson aktuális kínálatunkból a Jegy.hu keresőjében!
Last event date: Sunday, October 10 2021 6:00PM
Cinemira TEEN is the only film festival in Hungary that is dedicated to teenagers. This one-of-its-kind event allows young people to get to know different cultures around the world through films, gain insights into the secrets of cinematography, meet distinguished contemporary filmmakers, and even try their hand at filmmaking. The festival presents hundreds of short feature films and animated films for young people from more than 80 countries.
At the screenings that start every hour, we show short animated and live-action films for the 13+ age group, while the Panorama section features the most outstanding international films for young audiences. This is an interactive festival: there will be filmmaking, animation, stunt performance, dance choreography and comic book workshops, chances to meet the stars of international series, and distinguished Hungarian directors will introduce the young audience to tricks of the trade.
This event of the Liszt Fest is jointly presented by Müpa Budapest and the Human Rights and Culture Foundation.
Throughout the history of classical music, certain works have been created that require an enormous number of performers and a large resonant space for their sound to be heard properly. Before Müpa Budapest opened its doors, Hungary had no venue worthy of presenting pieces like this.
Veronika Harcsa, Bálint Gyémánt and time - the relationship between the three contains some genuine thrills, and in more ways than one. The name of their new record is About Time. Being in time to the music is an art, while the distinctive rhythms of time are the soul of jazz.
A rainbow of sounds from the orchestra, enigmatic dialogues and mysterious riddles. Not to mention a treacherous dwarf and a glorious young hero. Who after slaying a dragon and tasting its blood, is able to understand the prophetic singing of a bird. And then crosses through a wall of fire to discover both the woman who is his mate and, through his love for her, fear.
At the concerts of the Discoveries series, we have grown accustomed to meeting young talents from both Hungary and abroad…
The orchestra of one of the most famous opera houses in Europe is also world class as an interpreter of…
Warning! The basket time limit is about to expire!
estimated time left:
00:00
Time limit has expired. Please, put item(s) in to basket again.
---