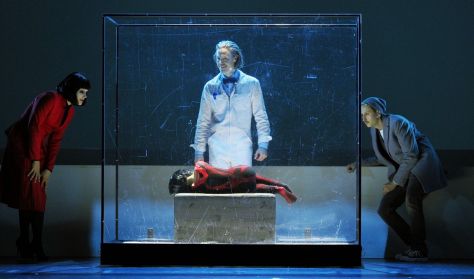 Jörg Widmann: Das Gesicht im Spiegel - A Neue Oper Wien előadása m. bemutató / LISZT ÜNNEP 2022
Nincs aktuális előadás
Ön egy múltbeli eseményre keresett rá. Kérjük, válogasson aktuális kínálatunkból a Jegy.hu keresőjében!
Last event date: Saturday, October 15 2022 7:00PM
Patrizia: Roxane Choux
Justine: Ana Catarina Caseiro
Bruno: Wolfgang Resch
Milton: Andreas Jankowitsch
N.: Eszter Petrány
Featuring: UMZE Ensemble, Women's Choir of Wiener Kammerchor (choirmaster: Bernhard Jaretz)
Conductor: Walter Kobéra
Music: Jörg Widmann
Libretto: Roland Schimmelpfennig
Set, costumes: Christof Cremer
Sound: Christina Bauer
Lighting: Norbert Chmel
Director: Carlos Wagner
One of the most renowned composers and clarinettists of our time, Jörg Widmann wrote his first opera at the request of the Munich Opera Festival. The commission was for a piece that specifically addressed a contemporary, topical issue. Voted premiere of the year 2003 by the critics of Opernwelt, the work went on to be performed by several German companies and opera houses.
The piece, whose libretto was written by Roland Schimmelpfennig, is about an ambitious young couple, Patrizia and Bruno, who own a biotechnology company. The firm seems to be on the verge of making it big because one of its engineers, Milton has come up with the technology of cloning humans. He creates a perfect copy of Patrizia, who is even more perfect than the model, because, among other things, she can immediately recover from injuries. However, Justine, the clone, must not look in a mirror or else she would immediately realize she is but a copy... In addition to probing into ethical questions related to modern technologies, Widmann's opera also presents a compelling emotional drama as Bruno and Milton become rivals when both fall in love with Justine.
For the excessive use of sound effects, we do not recommend the performance for those with epilepsy and other conditions with sensitivity to sound.
This performance of the Liszt Fest is presented by Müpa Budapest as a joint event with Neue Oper Wien.
Idei budapesti évzáró nagykoncertjük apropóján sem ígérhetünk mást, mint önfeledt, szabad örömzenélést, ahol balkáni és európai zenei hagyományok keverednek Boban és zenekara muzsikájában.
Children's opera in one act, in Hungarian
A Háy Come Beck története 2010-ben kezdődött. Több mint száz előadás után a két elsőrangú, népszerű alkotó most a Müpában…
This three-part dance show by Juronics's Szeged Contemporary Dance Company, now being presented live on the Müpa Budapest stage for…
Every year since 2008, the Budapest Festival Orchestra and Müpa Budapest have put on an all-day marathon production presenting the…
Warning! The basket time limit is about to expire!
estimated time left:
00:00
Time limit has expired. Please, put item(s) in to basket again.
---